Gold Plus Embroidery Membership Level
Do You Have Your Own Embroidery Business, But Want To Become More Efficient And Move Quickly To The Next Level With Your Embroidery Business?
Inside of the 

Gold Plus Level

of "The Embroidery Training Resource Center" Members area by Joyce Jagger, The Embroidery Coach, you will find all of the videos and articles that are inside of the Silver level and the Gold Level Membership.  In addition to that, you will have access to all of the Business Basics! 
Business Building Strategies
These videos will give you the skills to Plan out your Embroidery Business, Price your Embroidery product correctly and learn how to Market your Embroidery Business! These skills are going to help you move your Embroidery Business to the next level!  These strategies will give you the skills to organize and create a profitable Embroidery Business!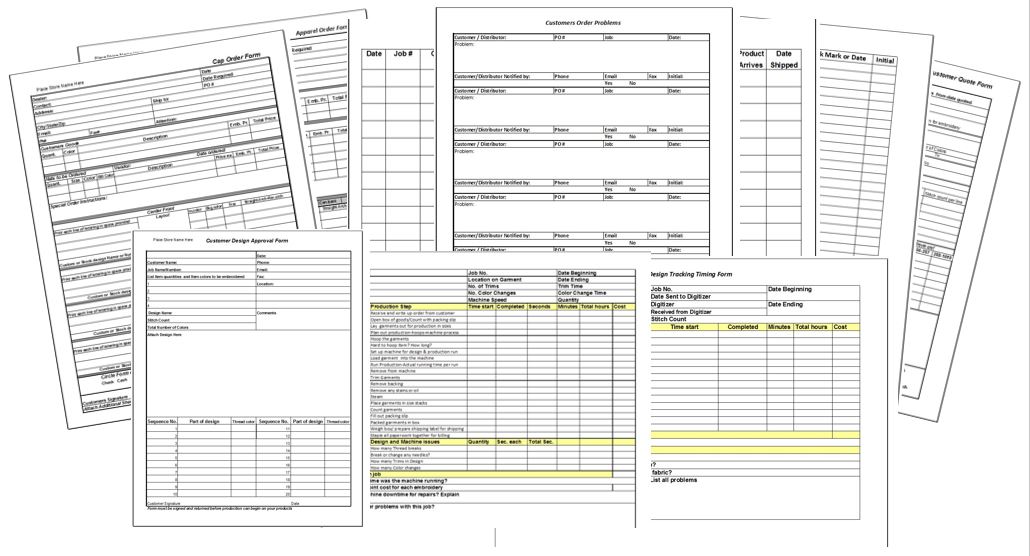 Embroidery Business Forms – You will receive all of the basic Business Forms that you need to run your business such as Customer Order Forms, Supplier Order Form, Embroidery Design Quote Form, Design Approval Form, Release Form, Log in Form, a Packing List and much more! These forms are all given to you in an Excel format so that you can customize them to fit your business needs.

Embroidery Production Forms – You will receive the basic Production Forms that will help you to keep your workflow going smoothly such as Embroidery Machine Scheduler, Embroidery Design Worksheet, Embroidery Production Sheet, and Embroidery Spoilage Report forms. These forms are all given to you in an Excel format so that you can customize them to fit your production needs.

Embroidery Production Tracking & Scheduling System – This is a combination log in, production tracking, and scheduling form. You will be able to track and schedule each job and know exactly how long the job is going to take. You will even know how many hours of embroidery work you have in house at all times.

Embroidery Business Plan – This is a full program that will teach you how to plan out each area of your business and create a full embroidery business plan, one that you can use on a daily basis as your guide to running your embroidery business. I teach you how to create your 12 months Marketing Plan, how to create your Projections and even your Cash Flow report!

How to Price Embroidery – This is a full program teaching you how to create a pricing structure that will help you make the profit that you have been looking for. This program includes many formatted spreadsheets to work with and create a pricing structure that will fit any type of pricing situation within your apparel decorating business!

Embroidery Design Quoting Tools – You will finally have the tools to use to quote your embroidery designs! I teach you how to quote designs quickly while the customer waits! No more having to get back to them with a quote and taking the chance that they will move on to someone that can quote a design quicker!

Embroidery Business Marketing System – This is a full program teaching you how to market your business offline and online. I teach you how to organize all of your products and how to set up your website as well as your entire marketing system so that you will be able to reach and follow up with your market.
I want to thank you for all of your hard work and for the incredible amount of invaluable information you offer to new and established embroiderers. You are amazing! I just had to drop you a quick line to let you know how thrilled I am having access to your How To Price Program! What a great program! I started my business in 2006 and believe me, I've done a lot of research over the years.
Once we moved out of our home into a retail location, things changed dramatically. I have sat in on several classes over the years on how to price embroidery. Each of them had their own twist, but basically, they all had the same information for the calculations, so when I saw your program, I figured that it was just more of the same information so I passed it over.
We have been struggling financially and it wasn't until the gal that does my invoices told me for the 100th time that I was not charging enough, that I decided to take another look at it. I thought I knew the formula. Now that I have your program, I know how wrong I was! It is so much more comprehensive than any of the others I have tried.
Yes, the core of the calculations is the same, but the additional variables that absolutely MUST be taken into consideration are built right into the system! Once you put your information into the base program, it creates your price list for you! It is a tremendous tool! The videos that explain the system really simplify the entire process. It is well worth the investment!
Cindy Proctor
The 

"Gold Plus Level" 

is the perfect place to start if you started your Embroidery business and you want to move your Embroidery Business to the next level. The skills that you will learn from The Embroidery Coach will help your business grow and be more efficient for the rest of your life!
You have all of this information at your fingertips plus "A new training each month!" A monthly investment of only 
$99.95