Gold Plus Lifetime Embroidery Membership Level
Do You Have Want To Save Money And Have Access To All Of The Embroidery Business Training That You Will Ever Need?
Inside of the 

Gold Plus Lifetime Level

of "The Embroidery Training Resource Center" Members area by Joyce Jagger, The Embroidery Coach, you will find all of the videos and articles that are inside of the Silver level, the Gold Level Membership and the Gold Plus Level.  In addition to that, you will have access to the Embroidery Business Bookkeeping System and Free Access to all of the Virtual Embroidery Workshops! The best part is you will have no more payments!  This is a Lifetime Program! (This does not include personal coaching)
Embroidery Business Bookkeeping System
These videos will help you discover the secret to easy Embroidery Business Bookkeeping and you will become crystal clear on exactly what areas in your Embroidery Business are making the most profits, and in what areas you are not making a profit!
If you find yourself spending hours, days or weeks getting your books ready to go to the account to have your taxes done at the end of the year, then this program is going to be invaluable!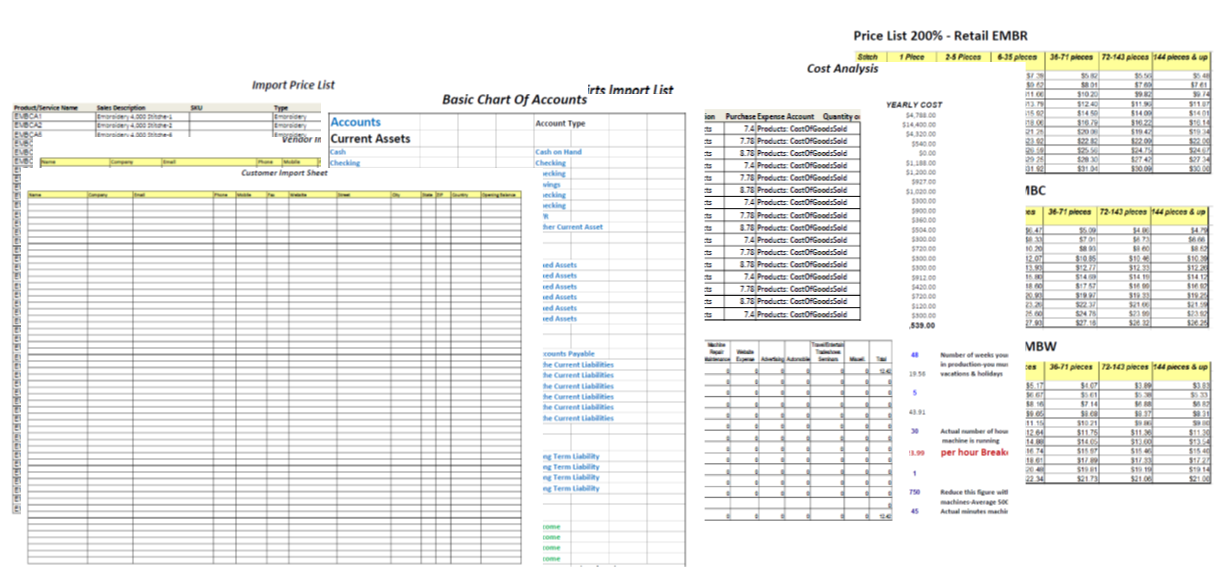 Module 1 – Organizing Your Information
Organizing Your Information
Basic Job Costing if you have not completed the Pricing Program-It is the basics & Not as complete as the Pricing Program
Forms for Gathering Customers-Vendors Information – Costing
Module 2 – Setting Up Chart Of Accounts -Products & Price Lists
Different types of account that will be in your Chart of Accounts. I also explain about Organizing your Products and Creating your Pricing Codes. Your pricing must be in place prior to this.
How to set up your QuickBooks Account Settings
How to Organize for Your Chart of Accounts
How to Set up Your New Chart of Accounts
How to Create a Product Sheet
Forms-Sample Product Sheet-Product List for Importing Products
Module 3 – Importing Lists – Customers, Vendors, Product & Price Lists
Introduction to Importing your information into QuickBooks
Importing your Lists – I go into detail about how to import each type of list
Creating your Classes
Module 4 – Create Your Invoices, Statements & Reports
Invoices & Payments in QuickBooks – I go over the organization of adding a work order, creating an invoice & applying

payments

Creating your Work Order-Converting it to an Invoice
Receiving a Customer Deposit – Creating a Sales Receipt
Bank Deposits
Last Minute Tips
Read The Results That One Of Our Lifetime Members Had After Started Using The
Embroidery Business Bookkeeping System!
Joyce, I want you to know how important the QuickBooks training has been to our business. I am NOT an accountant. When I started our business, I started with QuickBooks and over the years I was able to get it to work so that I had a basic idea of how we were doing. I could put in invoices and expenses. 
In 2016 through your QuickBooks training, I was able to take a GIANT step forward! I was able to set up my Chart of Accounts to really give me information that was useful. Before the words "Chart of Accounts" struck fear in me. Now I understand my Chart of Accounts and it provides information that helps me make decisions in our business. Throughout the year & at year end, the P&L really made sense.
In 2017 I look forward to the training again so that I can drill down a few more steps to get information to work better for me. Specifically, I'm hoping to add the price lists into QB. Because of the Pricing Program, I have so much more confidence in providing quantity breakdowns on various stitch levels. It has helped my marketing to be more than "I hope this works." Also, I'm hoping to improve my invoicing so that there's a line for the product & embroidery. Then there's a line for the discount on embroidery that takes it to the proper place in the P&L. I think that this format- charge with a discount -is a huge selling point to the customer. Who wouldn't want to do business with us?
Over the years, I've seen your training really merge into a complete system. The Pricing Program, the QuickBooks training, the Marketing Programs, the Online Marketing, all relate and integrate into a complete system. This is important because completing one step relates to other things in the business. This is what adds value to a business. 
When I first started our embroidery business I didn't know where to turn for answers to my questions. But I've found you to be a terrific coach– so helpful in usable solutions. Whether I have a question about embroidery -how do I do this or why did this happen – I can come to you for answers, promptly when I need the help & answer. Whether I have a question about marketing – you have solutions at a level that I can implement. Whether I have a question about shop layout & organization – you have solutions that work. There have been times that I think that I don't need XXXX in my business. But I watch the training and I find that I do need XXXX and just didn't realize it AND I know how I can implement it!
I highly recommend Joyce Jagger as THE Embroidery Coach. Joyce has helped me learn new skills, inspired me to reach beyond my comfort zone, and showed me how to add value to our business. I don't know any place that you can get so much that is so useful.
Linda Gadwood
The 

"Gold Plus Lifetime Level" 

is the perfect place to start if you have had your Embroidery business for some time and you want to move your Embroidery Business to the next level. This is a huge money saving opportunity that is going to give you all of the embroidery business training you will ever need plus be able to set up your books properly for the Decorating Apparel Industry!
You have all of this information at your fingertips plus "A new training each month!" A One-Time investment of only 
$1997.00